Yesterday was my rest day and it felt great. I got spoiled by my hubby who has arranged for my hair to get done both cut and streaked. I think it turned out great. Sometimes you just need a change to spark things up and this was the perfect time.
This morning when I got up and looked at the overcast sky I realized it might be best to get my run in this morning before it starts to rain like it has been threatening to do via the Weather Network. It has been a long time since I ran in the morning but I went at it with positive thoughts.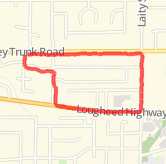 DURATION
18:20
CALORIES BURNED
--
04/26/2017
Activity
The positive thinking worked great.